If you happen to be in Paris France this weekend 15th and 16th of October afternoon, there is a cool workshop I'm giving at the occasion of la fête de la science:
Up-cycling on old speaker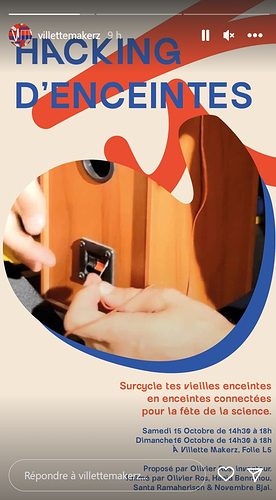 https://www.instagram.com/stories/villettemakerz/2945882986379364452/
In this workshop you will be able to :
Build a bluetooth speaker based an old passive speaker, broken radio, toys with a speaker
Customize the software to record your own voice for the speaker annoucements and more
Muse Proto will be available at the reduced price of 19€, bring your own broken speaker, radio, toy. Or buy on-site a second hand speaker (2 to 5€).
The event is hosted in Le Parce de la Villette in VilletteMakerz 2pm to 6pm Satuday and Sunday. This is a cool fablab I'm use to have my office in, this middle of la cité des sciences et de l'industrie.
Hope to see you there!